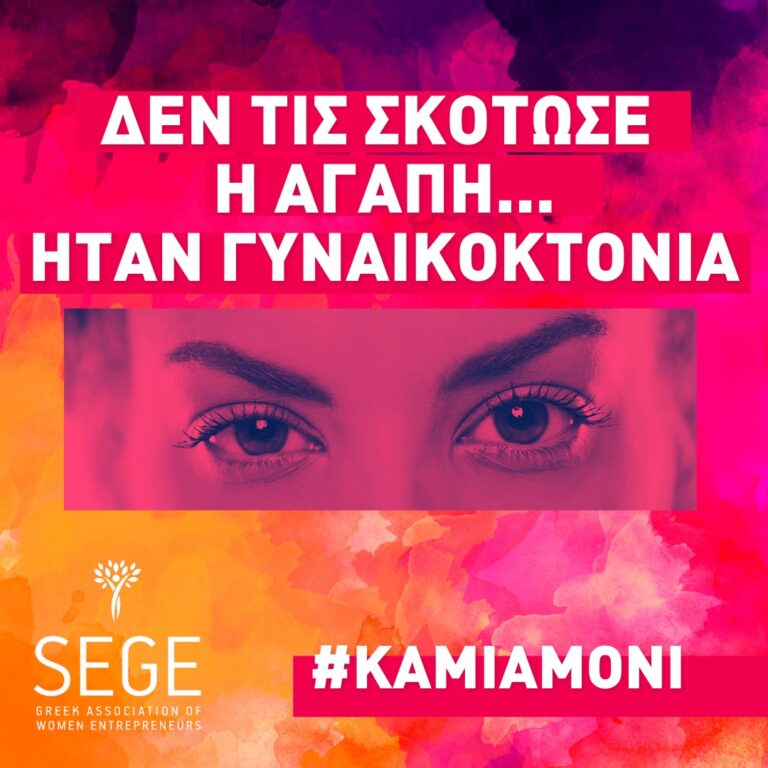 The information and support campaign #kamiamoni is an effort of the Greek Association of Women Entrepreneurs – S.E.G.E. as part of the Civil Society, so that we can also support and help every woman who comes to us, with targeted support actions in cases that need immediate help.
In S.E.G.E. we try and seek to achieve substantial changes so that measures of support and empowerment are taken, the silence of women is broken, best practices are developed not only to address and definitively eliminate the phenomenon of femicide which is on the rise but also for all forms of gender-based violence .

The main core of this initiative is practical help with the main objective of economic empowerment, through the creation of an information platform, kamiamoni.gr, and the provision of direct support to the victims and the establishment of a wider network of volunteers from various specialties who will participate in this project auxiliary and to whom each interested party can turn to for help.

Our ultimate goal is the prevention of violence against women, the ways to deal with the root causes of this phenomenon, but also to inform and raise awareness for everyone, without forgetting the SOS 15900 telephone line, a service of national scope that enables women victims of violence or to third parties to contact an agency dealing with gender-based violence directly.

It is our constant effort at S.E.G.E., through all of our actions, to offer practical support and gather our forces to achieve the best possible result in the fight against gender-based violence. For this reason, in addition to the targeted interventions of direct assistance, through the ForME action and the support of the wider network of creators and crafts that belong to it, to actively contribute to the economic empowerment of the victims. More specifically, through ForME, women who have suffered some form of abuse are offered, in addition to the income from the sales of specific creations, and something much more important, i.e. paid employment in the creative field.

During this period, in the premises of the former nursery school, in the courtyard area of the Port of Thessaloniki, within the framework of the exhibition "ForME 1821" which will have its doors open until the end of the year, one can be informed about #kamiamoni. In addition, in the exhibition area, a separate space has been created in collaboration with FIX in art and curated by Ms. Evita Stavrou, where visitors are given the opportunity to participate in an interactive experience that connects the #kamiamoni initiative, with the "Butterfly Effect" and with the assistance that each individual can provide by recognizing the power that it can ultimately hide.

Our goal is for all women to be happy and live the life they deserve!
You are not alone, or the only one!